Design Drinking: Henry Trejo
Join us Thursday, June 21st, 6 PM at Cannibal & Craft for Design Drinking! This month's Design Drinking will feature guest speaker Henry Trejo, Design Thinking Fellow at Crystal Bridges.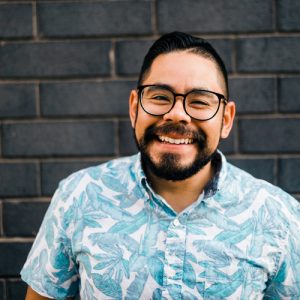 Topic:
The creation of Crystal Bridges' Latinx Resource group, SOMOS.
Henry will cover the design thinking process, taking a group of "non-designers" through the process, and discussion on the diversity within the Latinx culture and experiences.
Bio:
As a Collaborative Designer, Henry integrates human experiences, design thinking, and visual thinking strategies to design problems at Crystal Bridges. He enjoys working with multidisciplinary teams while building creative confidence in others. He has an MFA in Collaborative Design from John Brown University. He's also a musician, has a love/hate relationship with dairy, owns too many pairs of glasses and really likes doing life with his wife. Habla español too!
Date: Thursday, June 21st
Time: 6–8 PM
Presenter: Henry Trejo
Location: Cannibal & Craft