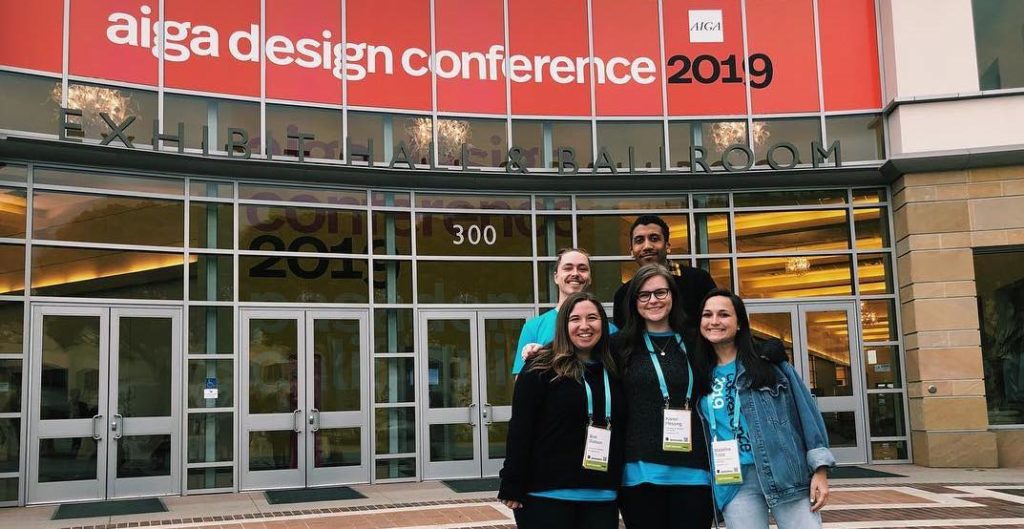 Student Groups

We encourage the formation of student groups at colleges and universities and enjoy connecting with and assisting these groups. Student group members show a commitment to their professional interest. Their engagement in the local chapter can help them understand the profession and build a network. The goal of student groups is to engage students in the local design community and help them build valuable leadership skills while they create a community of their own.
Active Local Student Groups at Colleges and Universities
University of Arkansas Faculty Adviser: Bree McMahon
Here's how to start an AIGA student group on your campus
---
Student Group Grant
Our chapter provides assistance to affiliated student groups in the form of grants each semester during the academic year. The local board is dedicated to cultivating student groups and their programming at the collegiate level.
A grant with a maximum award of up to $375 will be disbursed once per semester to all eligible student groups. Future accredited regional institutions and their student groups may be considered once eligibility requirements are met.

Grant application deadlines by semester:
Fall – Second Friday in September
Spring – Second Friday in February
Student group eligibility requirements:
Be an official AIGA Student Group (here's how to start a group)
Have AIGA Northwest Arkansas as its chapter of affiliation
Complete the Student Group Grant Application by the deadline
Twice per academic year, a student group representative must participate in a local chapter event

or attend a board meeting where they provide an update about the student group,

in person or virtually
After the application is submitted:
The AIGA Northwest Arkansas Board will review each application and contact the faculty advisor with its decision. If a group's application is not awarded funding, they may apply again during the next application period.
At the end of the academic year in which the grant was awarded, the Student Group's officers must email a report to the AIGA Northwest Arkansas board at studentprograms@nwa.aiga.org, outlining what was achieved with the grant.
If the student group disbands and the grant has not been utilized, the funds must be returned in full or part to AIGA Northwest Arkansas.
Email student group, grant, or programming questions to studentprograms@nwa.aiga.org